Before & After: How to Get What You Really Want by Jon K.

Recently, as my six-year-old daughter asked me for yet another Barbie, I said, "You don't always get what you want, you need to earn it."
She then said, "That's not fair, you always get what you want. How do I get what I want?"
The Crucial Conversations book happened to be sitting on my desk, so I handed it to her, and laughing I said, "Read this, it gets you what you want."
Now she refuses to put down the book. It goes in the car with us everywhere—to school, you name it. When someone asks why she is reading the book, she says, "Dad said from now on I'm going to get what I want."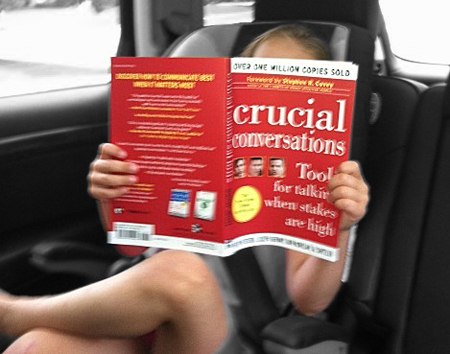 As many conversations are with my six-year-old, the full conversation was actually quite a crucial conversation about how to earn what you need and communicate that need. For the record, she "earned" the Barbie a few days later from her grandmother through some effective communication.